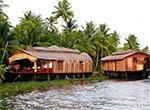 The Coconut Holidays package brings you the beauty, culture and natural bounties of Kerala, rolled into one delightful week. Experience the varied pleasures of the beaches, backwaters and  spice mountains, sample an array of home style organic food and open yourself up to the magic of God's own country.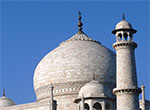 Surely one of the most romantic monuments of the world, The Taj Mahal is must in the itinerary of every visitor to India. Designed and built by Mughal Emperor Shah Jahan as a memorial to the beauty of his wife Mumtaz Mahal. A single visit does not do justice to the Taj Mahal as it provides different facets at different times.
India is not only known for her culture and civilization but also for her range of natural habitat. The Royal Bengal Tiger waits in the shadow of another magnificent fort at Ranthambore.
Combining this with the pinnacle of Golden Triangle – Delhi, Agra, Jaipur – the itinerary strikes the perfect balance between the man made and the natural marvel.